07 May 2019
Art Gap by Standard Chartered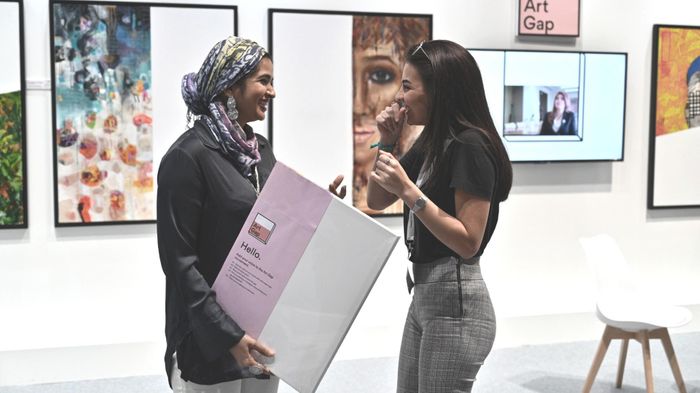 Works by women artists sell for 47.6% less than those by male artists at auctions, according to the "Is gender in the eye of the beholder?" study, University of Oxford – Saïd Business School, Dec 2017. This is the art gap and on International Women's Day 2019, Standard Chartered pledged to raise awareness for equal pay to men and women in the same role through the medium of art.
Art Gap presented by Standard Chartered, is an exhibition by a collective of female artists in the UAE to highlight this shocking gender pay disparity. Since female artists are being paid 47.6% less, they will paint 47.6% less and use their canvas to make a powerful statement.
Standard Chartered is committed to gender equality. In 2018, Standard Chartered Bank signed the Fair Pay Charter where the Bank committed to pay an equal amount to men and women for the same role. It's not good enough that in art men and women aren't being paid equally for the same role. On International Women's Day, the Bank has pledged to raise awareness about equality through the medium of art, with the first-ever Art Gap exhibition and will keep striving for better.
"The hand that rocks the cradle, is the hand that rules the world. Let's give this hand the value it deserves. World Art Dubai and Standard Chartered have come together to honour our women who add beauty to the world through their art and I am proud to be part of this movement that respects each artist without any gender discrimination." said Batool Jafri, Curator of Art Gap and Emirates Woman of the Year 2018.
One of the co-authors of the study, Renée B. Adams, Professor of Finance, Saïd Business School, University of Oxford said this about the Art Gap exhibition being held in Dubai: "Everyone is talking about diversity nowadays. But, the result of the talking is mostly just that—talk. To bring about real change, we need to act. The Art Gap exhibition presented by Standard Chartered is a cutting edge way of leveraging scientific research to bring about change. Nobody who participates or views the exhibit will forget the message. And the next time they buy an artwork, they will approach it differently."
The objective of Art Gap is to inspire men and women from the UAE to add their voices to the global conversation and support not only female artists around the world but women in other industries too who are paid unequally.