Artists To Look Out For At World Art Dubai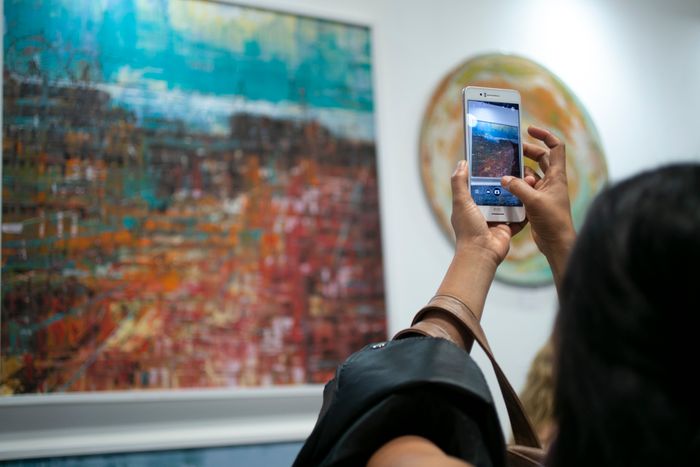 As consumer tastes continue to evolve, so too do art forms. The latest trend - heavily represented at this year's World Art Dubai.
Artists are increasingly creating pieces that fuse art forms such as painting, sculpture, photography, collage and more to break style boundaries through experimentation and innovation. Mixed media comes in many different shapes and sizes and whether using acrylic, resin or textile, these artists are ones to watch at the fair.
Long-time participant and winner of 'Best UAE Resident Artist' in 2018, Alexandra uses mixed media to capture unique energies and emotions of past, present and perceived future experiences through pattern and colour. Her artwork represents a visual daydream to connect viewers to a journey of limitless joy through Alexandra's eyes.
Launching her pop art collection at World Art Dubai, Archana's paintings are a culmination of fun pop art motifs, calligraphy strokes and ancient finishes. The works, mainly oil-based mixed media paintings on canvas, linen and wood, include bold lines and colours. The artist's creative process starts with words describing dreams, feelings, events, people and places. From there, she slowly adds layers and texture. Spontaneous fine lines, chunky brushstrokes, bold calligraphy, sculpture-like forms and monochromatic tones best describe her work.
This artist creates unique textile artworks for interiors. The distinctive pieces are made by combining traditional crafts including hand embroidery with contemporary techniques such as laser cutting and etching. A variety of materials are used, including velvet, felt, acrylic, card and canvas. The artist draws inspiration from traveling and each collection reflects a destination. Aditi will showcase two collections at the fair: 'Dubai Darbaar', an interpretation of Dubai's interiors, architecture, and Islamic art; and 'Bali Bohemia', which celebrates Bali's temple architecture and is inspired by Hindu architectural philosophies.
Known as 'The Queen of Resin' among the UAE art community, Dina creates large-scale abstract art pieces using resin and multi-layered mixed media. Dina believes the popularity of fluid art and resin art is surging and she expects the trend of mixed media to continue to rise.
This first-time World Art Dubai exhibitor turns to mixed art to express her emotions. Her work, which consists of acrylic painting, fluid painting and calligraphy, represents a personal journey of self-exploration using different techniques and a multitude of materials and media. In recent months, Maria's art has served as a therapeutic means of reflection and productivity.
What's On
World Art Dubai 2021 takes place at DWTC, from April 7-10, 2021 .Visitors will need to register online and are encouraged to purchase tickets via www.worldartdubai.com.
To ensure safety of visitors, and in line with all government guidelines, a number of measures will be implemented during the show to maintain social distancing, this includes regular disinfection and clearly marked and defined entry and exit areas. World Art Dubai has partnered with www.fynd.art to provide visitors with a contactless experience via their smartphone. By scanning an art piece with their mobile phone, visitors can explore information about artwork exhibited, artists and galleries.