Curating Art Apparel At World Art Dubai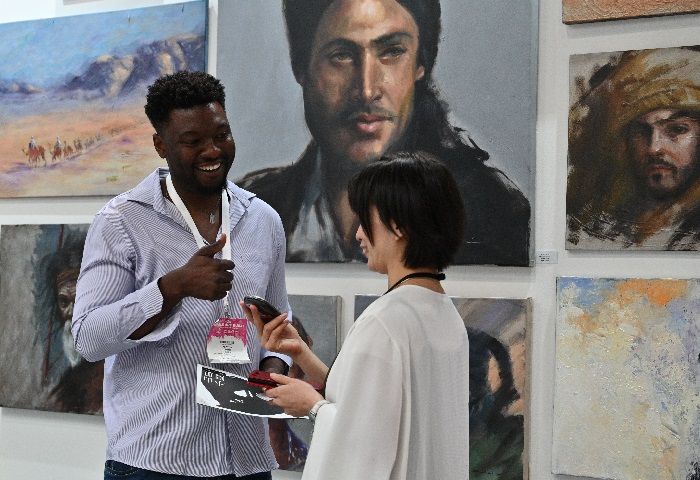 According to a recent study, the vast majority of people wear 20 per cent of their clothes 80 per cent of the time. But what about creating new hero outfits from former favourites? Customising apparel is a great way to make the most of a wardrobe and rediscover pieces that might not be frequently worn anymore. Whether it is for fashion inspiration or to upgrade items of clothing through customisation, this year's World Art Dubai exhibition from 7 – 10 April 2021 at Dubai World Trade Centre has all bases covered.
Developing your own style
A little creativity goes a long way when it comes to turning basic items into unique wear. A first step in curating a quintessential and reinvigorated wardrobe is developing your own style. Start by identifying a colour palette, favourite shapes and key pieces, and by exploring expressive styles via fashion blogs and social media that can be incorporated into and on to your own refreshed pieces.
Customising Your Attire
There are a million ways to customise items to completely suit one's style and stand out from the crowd. Pieces can be updated by embroidering designs or using fabric paint to personalise items and illustrating works of art on to clothing.
For those who would rather leave customising to the professionals, World Art Dubai has partnered with Craftology by Ella Elenzano to customise shoes, bags and clothes free-of-charge. Well-known for her pop surrealism, vivid use of colour and cool murals across Dubai, the multi-disciplinary Filipina artist and illustrator's awe-inspiring works include The Great Wave off Kanagawa blasted across a wallet, Michelangelo's Hand of God on Nike Airs, or classy initials on Prada trainers.
Urban Art DXB
For additional inspiration on customised apparel, Casa De Maquinas, a collective of bikers, artists and skaters from Mexico, Ukraine, California, Japan and the UK, will be taking their roots in motorcycling, hot rods and street culture to showcase custom urban art at World Art Dubai. The group will be live painting on motorcycle tanks, leather gloves and helmets.
Fashion at World Art Dubai
Taking personalised fashion to the catwalk, Petra Kaltenbach, World Art Dubai curator and full-time artist, has partnered with the German Embassy to showcase her playful and profound art printed on bespoke pieces on a dedicated runway.
Merging art and fashion, artists and galleries will also be selected every day to showcase art on the runway. With around 100 artists and galleries displaying a diverse range of artworks across a range of different styles, the runway activation is the perfect spot to explore new artists and art movements.
What's On
In addition to fashion, World Art Dubai, the region's most accessible and affordable retail art fair, will provide a range of experiences and more than 2,000 artworks from 7 – 10 April at Dubai World Trade Centre.
In line with government guidelines World Art Dubai will implement all necessary measures during the show to provide a safe environment to visitors, including regular disinfection and clearly marked and defined entry and exit areas. Visitors will need to register online and are encouraged to purchase tickets online. Additionally, World Art Dubai has partnered with www.fynd.art to provide visitors with a contactless experience via smartphones. By scanning an art piece with a mobile, visitors can explore information about artwork exhibited, its artist and gallery.