15 Nov 2018
Emirates Woman of the Year Award Winner - Batool Jafri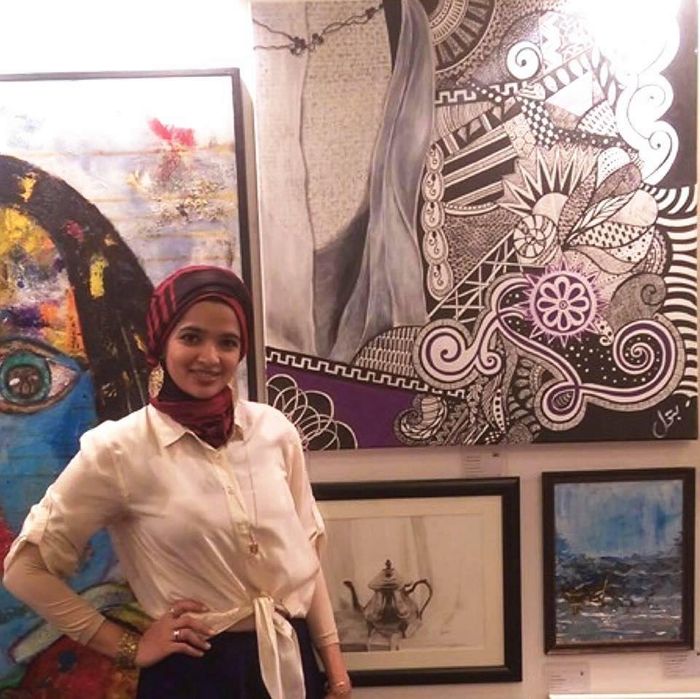 World Art Dubai in a conversation with our curator, Batool Jafri.
An artist and art educator and the winner of Emirates Woman of the Year Award under the Art & Culture category.
Please tell us a bit about your work and what inspires you.
My body of work draws on my personal experience of growing up in a Muslim society, and critiques gender and ability-related inequalities, where women and individuals with special needs continue to be subject to antiquated stereotypes. I use a range of media to express this including acrylics, ink, paper, thread and charcoal.
My inspirations come from the masters of the past such as Van Gogh and Sadequain, from nature itself like my painting based on the red moon phenomenon as well as the amazing strength and beauty inherent in every woman that I see.
How have you developed your career?
I have exhibited in over 35 solo, national and international art exhibitions across the world, including events held in the UK, Spain, the Netherlands, China, Turkey, Egypt, Oman and the UAE. I have recently completed a series of murals and permanent installations for various schools in Dubai. My artworks are included in the permanent collections of the Bursa Museum of Immigration History (Turkey), the Cross Borders Art Gallery (UAE) and in private collections around the world.
How does it feel to be nominated and win the prestigious Emirates Woman of the Year Award?
The Emirates Woman of the Year Award is a very special award for many reasons on both the professional and personal front. This award holds a special place because it represents women who are not only achievers but are women who celebrate the success of women around them, who encourage others to not give up, to break stereotypes and get right back up every time one stumbles or falls. Most of all it reminds us to love ourselves, believe in ourselves and help others believe in themselves. It has come at a time in my life where I had gone through a major shift on a personal as well as professional front as a reminder of the message in the Quran "After hardship comes ease", a promise to not lose sight of the light at the end of tunnel.
What are some of the causes that your support?
I support causes that center around children and women in general. I have been a staunch supporter of START which used to be an organisation working to provide art therapy to children and people of determination within the UAE. I also support SOS villages and The Citizens Foundation based in Pakistan which strives to provide high quality education to underprivileged children and orphans at no cost.
What advice would you give emerging artists to cultivate their work?
Emerging artists should experiment as much as they can till they start finding a subject and medium that they are happy with. Do not think that the first subject you paint about will be the only subject to pursue, in fact it takes years to find your own style and message. However, one thing emerging artists experience is disappointment on a regular basis and my advice is to never let that dishearten you, rather channel it to create your best pieces. You are an artist because of your passion for the arts. Don't let commercial success or failure affect that passion.
What advice would you give first time art buyers?
My advice would be that although it is always good to have a budget in mind, when it comes to buying art do not be too strict about sticking to it. Please do not buy an artwork just because it is the colour that would match your drapes etc, but rather a piece that you can look at again and again and find a deeper meaning each time, especially if it will be in a central location of your home.
If there's a piece that has really struck your heart, my suggestion is to invest in it, rather than going looking at 20 other pieces because for a new comer it gets daunting and you lose out on even the most meaningful of pieces. Pieces of art are not shoes, they are unique and if one speaks to you, connects with you, then do not look further trying to find a better bargain. Buy that piece and enjoy it for a long time to come. Let it continue to talk to you over the years. I guarantee you it will.
Please share your experience exhibiting at World Art Dubai.
Exhibiting with World Art Dubai has always been a good experience and hence I have been returning to it since the beginning. I have been an exhibitor with the fair since the very beginning and have seen it grow and evolve into something, which is much mature and vibrant today. It has truly created its presence in the market and on the art scene.
In your opinion, why should anyone attend World Art Dubai?
The reasons for attending World Art Dubai are multifold. For people who are fond of art, it is a melting pot of art of all kinds from every corner of the world. For those not familiar with art and hesitant about venturing into any art gallery on their own, this is the place for you to discover art on an informal, casual and personal basis. From workshops, to live art performances, to talks to on all aspects of the art world, as well as many activities for children. It is like one enormous art gallery with much more. I don't see a reason why anyone wouldn't attend World Art Dubai!