An artist proving you should never give up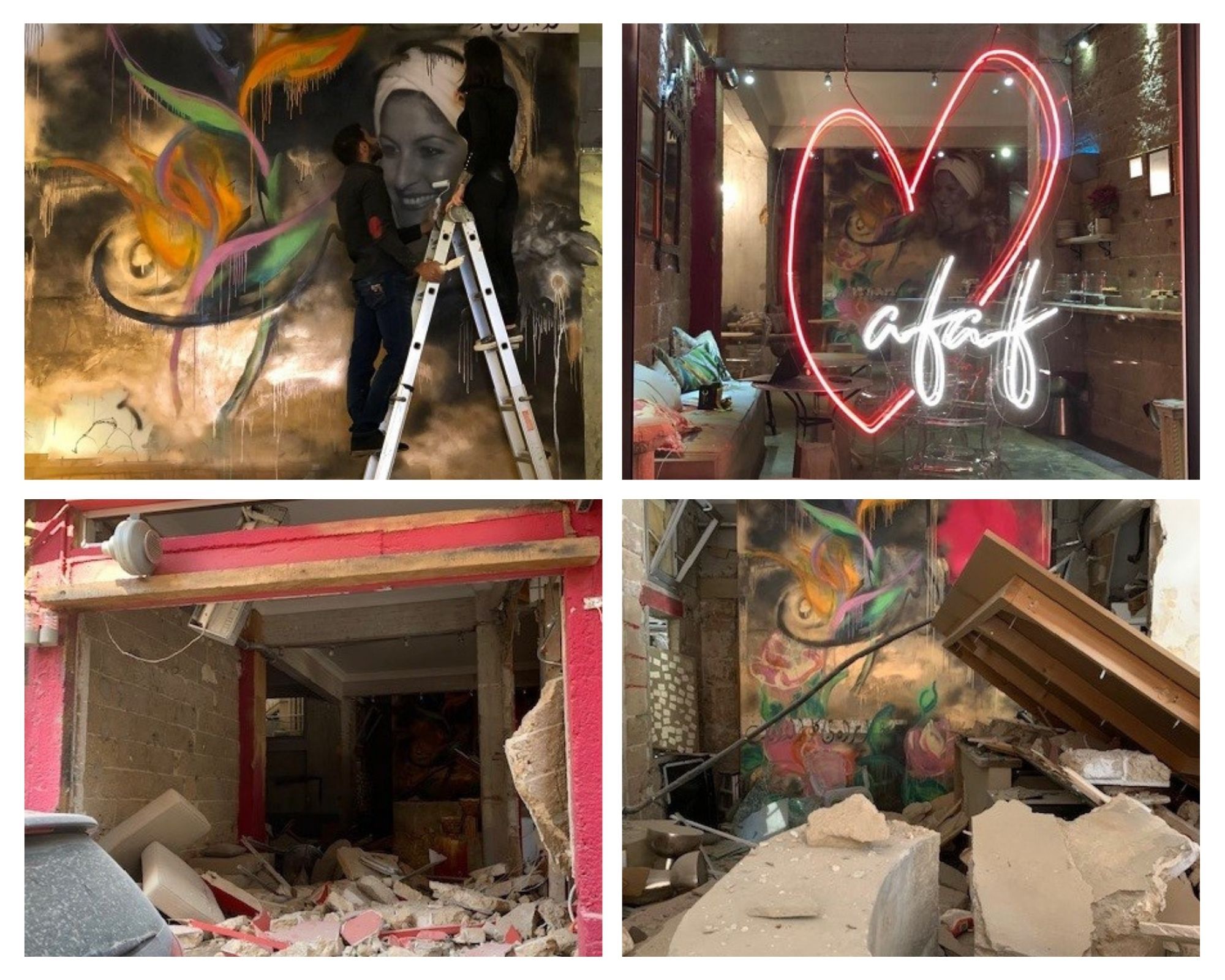 Farah Abdel-Elah Malhas' art studio containing all her work was completely destroyed during the recent explosion in Beirut.
Despite the tragedy, she picked up her tools, created new work and is ready to showcase her mixed media art at this year's World Art Dubai. Check out her artwork and come support her at World Art Dubai, stand number A10.
World Art Dubai in a conversation with Farah Abdel-Elah to tell you about her journey
Tell us about yourself and your art journey thus far. Please talk about exhibitions you have participated in, awards won, genre of art, etc:
Art has always been an intrinsic hobby; I am a self-taught creative. Although I got accepted into Central St. Martins I was not allowed to attend. Back then, you were supposed to become a doctor or a lawyer, being an 'artist' was not taken seriously and was greatly frowned upon; after all, "how could art pay for water and bread?"
No matter where life took me, I would always find something to paint or draw on, anything. Note books, walls, upcycled cardboard, canvases, you name it.
Although I was not allowed to see him often, my late father (who himself was an architect, world renowned inventor, and artist) used to tell me never to stop, he used to stress that I keep painting and just keep creating.
My dad used to say; "an artist never makes mistakes, never erase anything." This has become the focal point of my self expression. I use mixed media (predominantly oil, acrylic, and spray paint) on large canvases (my signature size being 200 x 180cm). I combine heavy Arabic poetic versus with fun Destiny/cartoon characters to get a specific message across. It is a wonderful thing to see how my work relates to the onlookers, children are mesmerized by the characters and colors, while adults are taken on a personal emotional journey of sorts. The calligraphy and paint in my work bleeds, this is to symbolize the tears that I have cried over my father's passing. It is messy and sometimes incomplete, just like life.
Perhaps I have held three exhibitions in total, the most important being a memorial I had for my late father, it included 63 pieces of his works (the age he was when he passed) and several of mine to lessen the morbidity of the situation. I wanted people to celebrate life and not mourn the loss.
What made you open this café? Any story behind this creation of yours?
The café was named AFAF after my maternal grandmother. It was based on recipes I watched her create an infinite amount of times as a child. I wanted to give people a glimpse into my world, to invoke nostalgia. The shop itself became a hybrid space of art and memories, it served as an homage to family members and things long gone.
Insisting on an authentic feel, I filled the space with actual items once owned by my family; from plates used to serve infinite meals, to measuring cups and spoons that my grandmother so masterfully commanded, to wall fixtures and portraits that once adorned our household walls, and even vintage hand embroidered pillow casings.
The shop was supposed to be a safe space built on love and acceptance
where everyone and anyone was welcome.
How has it been for you recovering from the unfortunate incident?
I do not know if we have recovered, or if any of us ever will. What happened was so surreal, really it is beyond my comprehension. Those of us who were lucky enough to somehow escape physically unscathed have only God to thank.
My shop was 500m away from the sight of the explosion and was completely destroyed. In seconds, all the hard work reduced to nothing but absolute rubble.
My home, located in Achrafieh area, was also badly damaged. Honestly, I am just so very grateful to be alive.
What are the next steps in your journey to highlight your art and bring back your café?
I have decided to take what happened as a challenge, I am currently starting from scratch and working on a plethora of canvases for World Art Dubai 2020.
Regarding the café, my friends aim to create a GoFundMe account in hopes of raising some money to cover the mammoth losses. If enough money is raised, I would like to open a small grab and go version of the place.
Why are you looking forward to come to WAD despite the incident you have just gone through?
Because I need a breath of fresh air. I want to be surrounded by positivity and happiness rather than sorrow and complete despair. Beirut is no more; we are literally living in an Armageddon.
Being at WAD surrounded by all things art would be the best form of therapy. The colors have an ability to life your spirits up. The hustle and bustle there would, at least momentarily, take my mind off of things. Seeing how people interact with my work would bring happiness to my soul. I just want to be engulfed in positivity.