16 Feb 2020
Finding My Creativity & Purpose - Emma Skinner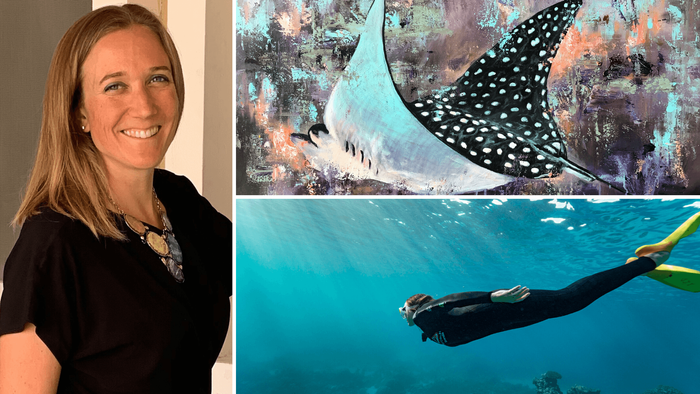 Throughout my life I have experimented with photography and creativity to explore the human experience of the ocean. I have been increasingly concerned about the number of endangered species and the human impact on marine life. This has driven me to research ways I can help, which led me to support Plastic Bank's initiatives around the world.
I have a strong affinity with animals and the sea, which started from a very young age. I developed multiple aquariums at home before maintaining corporate aquariums in the UK and spending time working at Sea World, Florida and Taronga Zoo, Sydney.
While living in the UK, I set up a Mobile Zoo that I would take to schools, fairs, care homes and public events to teach people about ecology, the food chain, adaptation and animal care. What surprised me most was the lack of awareness about the food chain and how society has become disconnected from its sources of food. Education was a key theme of our business, while also using social media to highlight the work we were doing.
Since moving to Dubai, I have been working on a series of paintings depicting the delicate balance of the ocean, the beauty of the animals within and the uncertainty of their future. I have also donated time painting Ramadan Fridges and creating large scale live school art. This includes wall murals, graffiti and indoor displays working with classes of children and parents to create exciting backdrops for productions and performances.
HOW IT ALL STARTED
My mother and paternal grandfather were both artists. They encouraged me and my sister to be creative from a young age, and we explored various artistic avenues including painting, sculpture and photography. This was also the time I developed a love of the ocean, and by the age of 14, I owned three aquariums, bred and sold tropical fish and maintained multiple corporate aquariums.
Eventually however, my studies veered towards the sciences and so my creative endeavours were put on hold while I developed my interests in biological sciences. Following completion of my university degree, I re-engaged with my creative side through photography.
After having children, I was concerned about their lack of connection with nature, so we started a smallholding in the UK; a miniature horse, pygmy goat, pigs, chickens and ducks were soon followed by invertebrates, reptiles and many rescue animals, which taught my children about animal care, the food chain and the life cycle of animals. This experience inspired me to teach other children and parents about the animal world, which resulted in 'Warescot Farm', the Mobile Zoo that I started with my neighbour.
This was a natural extension of my love of animals, and I've spent my life exploring ways of introducing nature to others; through public speaking about conservation, biodiversity and adaptation and studying Naturopathic Nutrition to help people understand the power of the natural world. A family move to Dubai meant I had to leave my businesses behind in the UK, creating time and space to experiment with art.
THE JOURNEY
I spent months looking for inspiration after we moved. As a family, we regularly snorkel, paddle board and spend hours searching the beach for treasures. This reconnected me with my experiences in aquariums and the ocean life I was so obsessed with as a child. Seeing the plastic rubbish on the beaches and in the oceans also disturbed me, and I wanted to find a way to convey the message about the damage I was seeing. This led me to pick up a paintbrush again and to explore the aquatic world in my art.
I had so many ideas and inspirations that it was difficult to get them all down onto canvas fast enough. While my early pieces were smaller, I am now expanding onto large canvases that allow me to explore the interplay of sea, light and animals in more depth and variety. I paint every day, and once I am at my easel, all concept of time disappears.
MY CREATIVE STYLE
I work mainly in acrylics, and sometimes use resin, gold leaf, oils and dyes to accentuate certain features, particularly around light. I love the way light can fundamentally change perspective and the feeling of a piece; and how shadow and movement can represent the fluidity of the ocean.
I am drawn to realism in paintings, but I prefer my pieces to include an aspect of fantasy. I choose a wider range of tones to put my subjects in an abstract environment and use pallet knife work to guide the eye around the image and create texture to represent uncertainty, whilst keeping true to the subject of the painting.
MAKING IMPACT WITH THE PLASTIC PROBLEM THROUGH ART
I am passionate about the growing 'plastic problem' our generation has created and the impact it is having on the ocean ecosystem. It is estimated 8 million tons of plastic waste enters the ocean every year. Countless numbers of birds and animals are dying as a result of encountering plastic, we are racing towards extinction of many species, and plastic is now within the food chain.
I have watched in dismay as the levels of waste products on our beaches and in the ocean increases year by year. I'd head down to the sea, searching for the inspiration for my next piece and leave with a bag of trash instead. I decided to start researching different ways to help, and to create meaning and purpose with my work.
In my research, I came across the organisation called Plastic Bank. They have developed an economic model that encourages the ultra poor to become entrepreneurs, by collecting plastic rubbish and taking it to recycling centres. The plastic is weighed and its value transferred into cryptocurrency which can be used to purchase many essential items such as education, medical treatment, insurance and WIFI minutes. Instead of handouts, members can earn the money they need; increasing their feelings of independence and self-worth.
This recycled 'social plastic' is then sold to corporations for use in their products. These sales fund the currency used to pay the collectors. Value is given to the plastic waste collected whilst also alleviating poverty and removing ocean bound plastic from the ecosystem. As consumers, we can choose to support organisations such as this by buying items that use social plastic. We can close the loop and address several problems within the world at the same time.
I have come to realise that the very last thing we should do is clean the ocean, we need to turn off the tap that is pouring plastic into our rivers, lakes and seas by seeing its value and removing the term 'waste'. With this in mind, I pledge to give 20% of my sales to support this system. I have found a way to create meaning and purpose to my passion for painting ocean wildlife, while opening the conversation about the power of conscious consumers, social plastic, and positive environmental impact.
Each of us is such a small unit of this world, but if we unleash our consumer power and take care with the choices we make, we will create change and a brighter future for our children. One of humankind's greatest mistakes is thinking that this is not our problem and that someone else will save us. It is each and every one of our responsibility to act in whatever way we can to make a difference, no matter how small.