13 Feb 2019
From World Art Dubai to regional stardom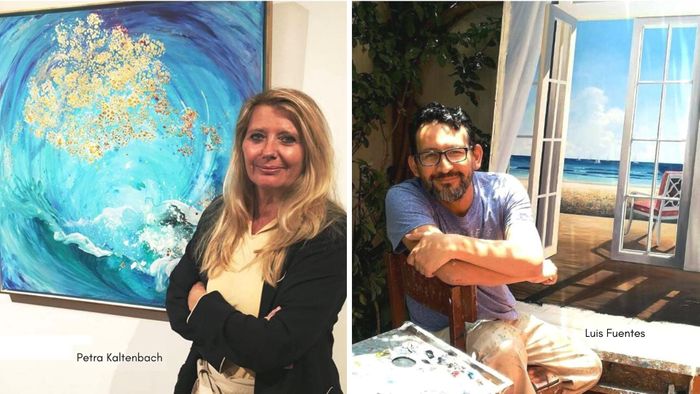 Petra Kaltenbach - Award winning artist and Judge for the Emerging Artists Competition with Rove Hotels.
Luis Fuentes - International award winning artist
We sat down with two of our loyal international artists on how participating at World Art Dubai helped them gain prominence within the GCC region.
Which year did you first exhibit at World Art Dubai?
Petra: I have been exhibiting at the show since 2014. This was the year I truly dedicated myself to the arts. In 2014, I also had my first solo exhibition and shortly thereafter the exhibition at the World Art Dubai.
Luis: The first time I exhibited at World Art Dubai was 2016, it was my first International Art Fair. I was looking for a direct contact between people and my art. I wanted to see their reaction when they viewed my paintings and listen to their opinions. The art scene in Dubai seemed very promising and World Art Dubai was a perfect fit for me.
How did your journey at World Art Dubai help you get to where you are today?
Petra: World Art Dubai was and still is one of the best ways to present yourself and your art to a broad public. Artists meet not only buyers and other artists but also art suppliers, interior designers, art consultants and galleries. As an emerging artist, you have to start somewhere to show yourself to the public. Participation at World Art Dubai has led to potential buyers and galleries becoming aware of me. Through World Art Dubai I have been able to make various contacts with local and international galleries. That in turn has led to many great exhibitions, new contacts and projects.
Luis: World Art Dubai was an important step in my career as it showed me another way to promote my art. The show allowed me to meet new buyers and art lovers and connect with art galleries from all over the world. Right now, I continue to show my paintings trough art galleries and I have a very active participation in Art Fairs in Hong Kong, Singapore, New York, Busan as some of my destinations.
What are some of the achievements you are most proud of?
Petra: Since World Art Dubai initiated the Awards, the incentive to present good art has become much bigger. In 2018, I received the Best UAE Resident Artist Award, which allowed me to enter new projects. Today, I invite art buyers to the fair and many have bought several works from me in a row.
2016: Shortlisted for IEAA –International Emerging Artist Award
2017: Nominated as the best video artist discovery since the inception of the IEAA
2018: Video selected for the Burj Khalifa Façade show
Luis: I sold almost all the paintings I produced since 2016. One particular achievement was during my first time at WAD in 2016. That was the year I sold almost all my paintings that I brought with me from Peru.
A message for emerging artists looking to venture into the world of art.
Petra: In my opinion World Art Dubai is the ideal platform to give your journey a start and to continue as an established artist either represented through a gallery or with a solo show. Visibility is one of the most important factors in an artist's carrier.
Luis: Take the risk. Working with art is always hard, but we need to keep looking for the opportunities. For me, an art fair means a big audience for your art and a place where opportunities will come for sure.
If you or someone you know are looking to start their artistic journey, participate in our Emerging Artists Competition now to win a chance to exhibit your work at our upcoming edition and across Rove Hotel locations.