01 Apr 2021
How the pandemic has shaped the art scene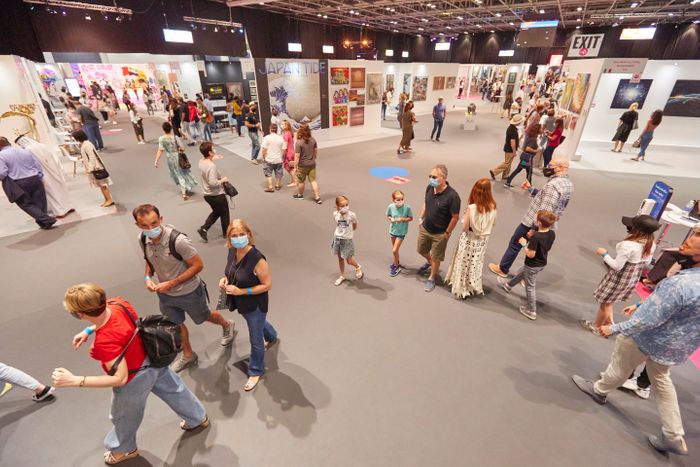 With many galleries and museums across the globe closed or having had a spell of closure over the past year, the art scene has naturally felt the effects of the pandemic.
Whether its amateurs who utilised their time at home to finally develop and hone their skills, artists turning the unusual situation into inspiration, or a greater dependance on technology to share work, there is no doubt there were ripples across the industry, some of which might change the face of art forever.
Multiple physical artistic spaces from dance lessons to painting classes offered online alternatives which in turn created a wider reach in terms of international audience and those who wouldn't otherwise be able to attend a physical session. I predict with the success of such digital classes that a hybrid approach will be adopted moving forward, with artists able to arrange educational sessions with both those in their host town, as well as further afield.
This year's World Art Dubai is running under the theme 'discovering new perspectives' which invites visitors to expand their minds and enjoy an inspiring world of creativity. Following a challenging year, we look forward to providing a variety of perspectives across canvas, photography, digital, fashion, urban, sculptures and more.
Cynthia Nouhra, the Lebanese abstract artist who will be exhibiting at World Art Dubai for the first time in 2021 used the extra time to launch her online course, 'Creativity and Awareness', a transformative art therapy journey which offers users guidance through techniques to reach peace in their lives through art.
Other exhibitors at this year's show have taken inspiration from various aspects of the ongoing pandemic to create brand new work under related themes. Alexandra Williams has utilised her thoughts during the past year in her painting 'Joyous' which looks at how resilient the spirit of humanity is by looking at those who remained grateful and extended generosity to others in the face of adversity.
Kemal Yazici, the locally based artist, has crafted work that is synonymous with freedom with nods to nature in pieces that depict forests and greenery while improvising with tools like metal and plastic during the time when stores were closed in Dubai.
Dubai based artist Kristal Bechara utilised time during lockdown to dig deep into Greek mythology, which in turn offered up inspiration for a series of paintings based on the epic poem, Psychomachia which she believes encapsulates experiences in 2020.
With people having spent more time at home, interest in starting a collection and curating their homes was on the up. One of our key World Art Dubai curators, Samar Kamel, has pulled together some top tips for those looking to start out. Click here to read more.
Check out these artists and many more at World Art Dubai which will be held at the Dubai World Trade Centre, halls 1 and 2 from 7-10 April 2021 between 1-9pm each day, except Saturday which runs until 8pm. Tickets cost AED 20 for adults, AED 10 for children, with family packages available. Don't miss out on the creative journey and get tickets online through www.worldartdubai.com Free parking is available for all visitors to World Art Dubai at Trade Centre Multi-Story Car Park.