01 Apr 2019
How To Survive Your First Art Fair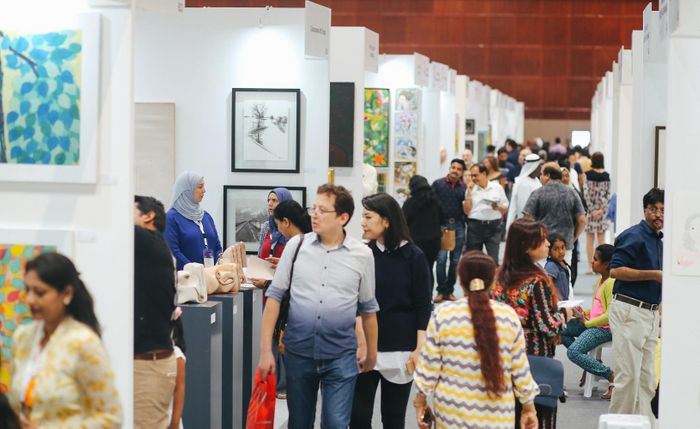 Whether you're planning to visit World Art Dubai for the first time or the fifth, it always pays to plan ahead. Aside from the 3,000-plus artworks on show, there are dozens of opportunities to listen to and learn from a hand-picked roster of art industry specialists at the fair – so you'll need a clever itinerary to ensure you make the most out World Art Dubai.
As the curtain lifts on the fifth outing of the Middle East's only accessible and affordable art fair, which runs until Saturday, April 6, the World Art Dubai team have provided their top tips for this year's fair.
1. Do your research ahead of the event
Ahead of the show, most art fairs release information on key exhibiting artists exhibiting. Make the most of that information and indulge in a spot of pre-show digging to research artists that grab your attention. Check out their website, social media and previous interviews to see if their work and preferred style match your own preferences – that way you can make a beeline for the artists that most interest you when you arrive!
And remember, while your top artist picks should definitely take the lion's share of your attention, be sure you do not overlook artists with a lower profile. Some of the best emerging artists are just starting out and building their personal brands. You might not know it now, but that research might pay dividends down the line if your research unearths a potential star of the future.
2. Set your budget
Desperate to grab a key piece of art without breaking the bank? Outline what you're looking to spend ahead of the show and then stick to it. There may be works that exceed your budget, so having a budget in mind will help you evaluate if the extra investment is realistic. Our advice would be to always buy what you love – that way you won't regret your decision in the future. If your budget is particularly limited, be sure to head to the Art For Every Wall section at World Art Dubai, where no piece of art is priced over $1,000!
3. Where will it go?
Ever walked into someone's living room and been taken back by a piece of art which just doesn't seem to fit? If you have, then you know some buyers don't consider the space they are buying for. Drowning your room with an excessively sized work is one of the biggest mistakes people make at art fairs – it's not like you can take it for a test drive. Our advice would be to take a few measurements on walls/spaces that you're looking to decorate prior to the show, then stick within those remits to get the right piece to fill it!
4. If you don't like a piece, move on…
If you find yourself walking past an artist's stand and don't like their work, that's fine, everyone has widely differing tastes when it comes to art. On the flipside, it's highly recommended you don't let the artists know that. Artists put months and sometimes years of hard work into each individual piece and while they'll know their art won't suit everyone, it's impolite to let them know that you're not a fan. Smile sweetly and move on to the next stand, your perfect piece might be just around the corner!
5. If you love a piece, stay!
On the other hand, if a piece does grab your eye – stay! Learn more about the piece and the artist behind the work - it might even solidify your love for it. Artists are usually more than happy to chat about their work, especially to a prospective buyer. You can even test yourself by asking the artists a question they might not have been asked before. It's a sure-fire way to grab their attention and learn more about their personality!
6. Take advantage of the other features on offer
World Art Dubai has a host of other features that visitors can enjoy at the show. Specialist talks will be delivered by key artists and industry experts throughout the four days, so keep an eye on the World Art Dubai website for further information on schedules.
Many artists will also be demonstrating how they put realise their work, including Ben Eine's Fortune Favours Art, who will complete a range of canvasses on show. Keep your eyes peeled all the time to get tips on creating your own art and explore the creative workshops for visitors of all ages.
7. Visit more than once
World Art Dubai runs for a total of four days, so why not visit more than once? Give yourself a chance to mull a work over at home and evaluate how it might look on the wall. There's no danger in taking some time to envisage the piece you're debating, but don't leave it too long as someone else might snap it up before you get the chance to pull the trigger.
Visiting more than one day also allows you to catch a wider range of activities and talks on show.
8. Be comfortable!
This sounds like the most obvious one but hear us out! It's extremely tempting to wear your trendiest outfit to an art fair – but don't. Yes, you want to dress to impress and you never know who you're going to see at these types of events, right? True, however hobbling around the show because your new shoes hurt is not going to be pleasant. Wear your comfiest clothes and be prepared to walk plenty!