01 Apr 2021
In the studio with Sara Alharbali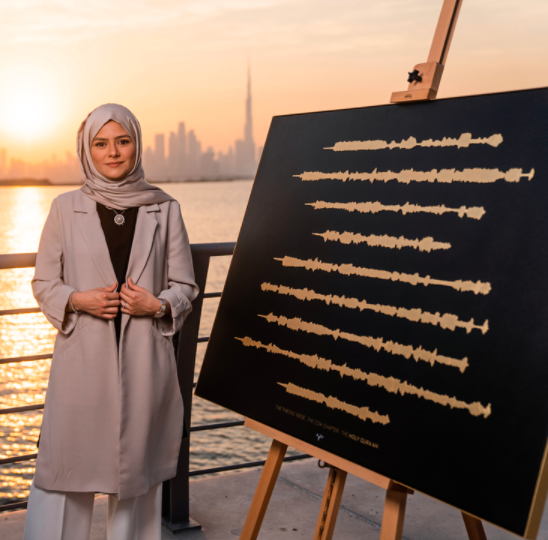 Founder of luxury product brand Tajrid.ae. Born and raised in Dubai, she's a trained architect and urban designer
Please introduce yourself and your firm
I was born and raised in Dubai and have a BA in Architecture from the American University of Sharjah and a Masters of Urban Design degree from University of California Berkeley, USA.

I have a diverse experience of architecture and urban design, working on several built projects here in the UAE.

My interests of industrial art, material fabrication and passion for cities morphology and the impact of urbanity on civilisations were joint in my brand Tajrid, which I started in 2020.

Tajrid is a luxury brand inspired by urbanity and authentic Arabic culture, as well as my passion for abstract art, spirituality and the intangible philosophical dimension.
Describe your work space
Since I started working on Tajrid during 2019, my studio has been basically digital from my laptop. I tend to work from different places in Dubai to feel inspired and energetic when sitting around creatives and youth. Any place serving coffee and Wi-Fi can be an office for me.

Since I started manufacturing, I started frequently visiting the factory where I manufacture my design pieces to check on samples. Also, my parents' garage is my products photoshoot studio.
How does your day at work typically start?
I go through the artwork orders that I received and make sure those in process in the factory are on track. As a startup, I spend most of the day reaching out to art related events, and potential commissioners or clients.
What are you working on right now?
After releasing the first collection, as well as participating in an exhibition at Mandarin Oriental Jumeirah Hotel, I got a lot of positive feedback on my Instagram.

However, I am trying to network, research and reach to interested business owners of interior design consultants, high end furniture showrooms, gallery owners, and museum curators.

At the same time, I am applying to big art and product design events and exhibitions. So far, I got accepted to two major events where I could meet potential high end clients: World Art Dubai and Artist Avenue section in The Hotel Show. I am also working on the next product design of Tajrid, a sculptural furniture piece.
What are the high points and challenges of the day?
As a startup owner, working solely on everything needed to enter the market is the hardest thing. I shuffle between various tasks of marketing, sales, design, networking, material sourcing and fabrication, answering client requests, applying to events.
Spending the limited time in hand on the next important task is the most important decision especially that I am learning many things on the go. But it is an enjoyable journey that I am looking forward to live.
How and where do you seek inspiration?
I find inspiration in spirituality and the intangible philosophical dimension of general matters (such as events, people, societies and designs in particular).
My first art collection, Revelation Spectrogram, is an abstract depiction of traditional Arabic calligraphy wall art of Qura'anic verses. This series revives this kind of spiritual art while reflecting an Arabic-Islamic character, culture and civilization, to export to the world an unconventional way of expressing the blessings in Holy Words, Revelation.

I also seek inspiration in every urban context in its various dimensions: the social, environmental, and the physical. As an architect and urban designer, my motivation in design has always been how to make indoor and outdoor spaces serve their end users functionally.
In the process, I believe that the aesthetics of spaces are key in creating valuable healthier experiences and lifestyles for end users. My long term goals from my professional practice as well as my art pieces is to inspire civilians to understand and adopt urbanity as a 'mindset and lifestyle' in order to improve the quality of life in their cities.
What's on your desk? What are you listening to?
I like listening to instrumental music when trying to focus and motivational Arabic music when trying to work on design or on challenging tasks. My desk is usually messy: books, sketchbook, material samples and there's always a cup of coffee there, full or empty.
Tell us three bookmarks on your browser
Olson & Baker, soundwaves interpreter, my YouTube playlist.
What would you change about your office space?
I look forward to have a space more like a workshop where I can work by hand, use tools and test materials. Two places that seem enjoyable in this sense are Tashkeel arts organisation, and Colab in Dubai Design District.
When does your day end?
Everyday is a different day. I do not have a defined work schedule. When I feel inspired, I work even after midnight.