Japan Tide in World Art Dubai 2020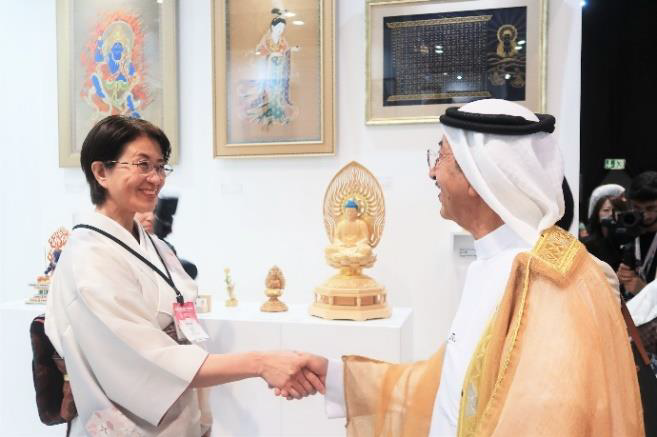 Japan Promotion is back to the World Art Dubai 2020
(Stand No G20-G24, F25-F29, H20, H31)
We have showcased about 200 to 300 art works from different genres of Japanese art every year. Workshops of Japanese traditional art techniques and authentic Japanese culture such as tea ceremony and Dynamic art performances, including Japanese calligraphy performance by Japanese artists have been highly acclaimed by visitors every year.
We will showcase more than 200 artworks from 31 Japanese artists under its project JAPAN TIDE featured styles include Japanese calligraphy, sumi-e (Japanese ink painting), Japanese painting and woodcarving, cloisonné and traditional Japanese Muntin art using exquisite traditional technique, in addition to contemporary arts including a unique series of sculptures called "C-Art".
Four Japanese artists will come to the show. They are looking forward to meet the art lovers and artists in Dubai.
■What is JAPAN TIDE?■
Japan Promotion has exhibited Japan pavilion which showcases Japanese artworks, crafts and high-quality products at the various big events in the world such as Japan Expo Paris, Hyper Japan and also has supported Japanese artists' exhibitions in Japan and outside of Japan. In 2017, we launched the cultural project called JAPAN TIDE which has introduced Japanese high standard culture, arts and product to the Middle East region in April 2017.
■WORKSHOP■
Japanese ink painting workshop
"Mind-Reflection" By eisui
Led by Japanese painter, eisui, this unique Japanese ink painting workshop offers participants a new meditation technique called "Mind- Reflection" which visualizes their own state of mind and harmonizes their mind. Workshop happening in the Workshop area.
DAY1 (8 Oct.) 4:00 PM - 6:00PM
DAY2 (9 Oct.) 6:30 PM - 7:00 PM
DAY3 (10Oct.) 2:45 PM - 3:45 PM
■ART TALK■
Connected Art: C-Art - Enrich your life by C-Art- By Rozan Takeuch
Sculptor and poet Rozan Takeuchi is featured in Art Talk and will talk on C-Art and his unique project C-Art Museum. Art talk happening in the Workshop area.
DAY1 (8 Oct.) 7:00 PM - 8:00 PM
DAY2 (9 Oct.) 7:15 PM - 8:15 PM
DAY3 (10.Oct.) 4:00 PM - 5:00 PM
The Visualizing Meditation "Mind Reflection" By eisui
Japanese painting artist, eisui learned the words of the Buddha that give us the strength to live from the classical scriptures. eisui will introduce the Visualizing Meditation called" Mind-Reflection" which can be shared widely as a mental practice across religions and cultures.
DAY2 (9 Oct.) 5:45 PM - 6:15 PM
■INQUIRY■
General Incorporated Association Japan Promotion
4F Edina Bldg.6-18-10 Jingumae, Shibuya-ku, Tokyo
150-0001 Japan
Tel.: +81 357662450 Fax.: +81 35766-2451
Mobile: +81 8067483621(Aki Yamada)
WhatsApp :(Aki Yamada: message only: + 971 56-3837245
Email: yamada@japanpromotion.org
website:http://www.japanpromotion.org/