01 Apr 2021
Key artists to check out in 2021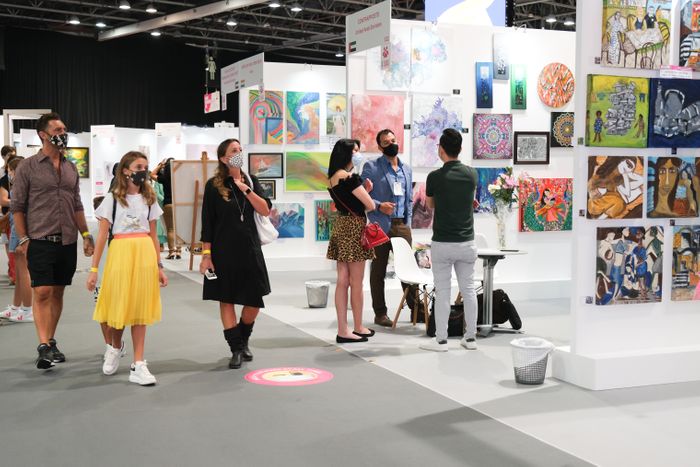 Artists have united from all corners of the globe for the seventh edition of World Art Dubai, with more than 200 local and international artists and galleries displaying over 2,000 pieces across a range of disciplines.
Exhibitor experience varies from emerging to award-winning, with prices starting from just AED 3,000. Whether you're a seasoned art collector, a first-time buyer or just looking to expand your knowledge of the art scene, World Art Dubai has it all under one roof while adhering to stringent health and safety measures.
Eli Gross
The first ever exhibitor hailing from Israel is a must-see at this year's show. Not only is he contributing to the bridging of culture between the two nations, but his seaside depictions of children also leave viewers dreaming of locations across the world, including Tel Aviv which is well represented in his collection.
Smitha Nair
Engineer by day and self-taught artist by night, Smitha is returning to World Art Dubai following a successful tenure at last year's edition. Her hero piece 'Crossed-Wiring' is a must-see canvas dedicated to her best friend who has the neurological condition 'synesthesia', where information that should only stimulate one sense, stimulates multiple senses. The canvas takes viewers on a multi-sensory journey and sit amongst her collection that has pieces inspired by solitude during last year's lockdown.
Hend Rashid
Emirati Hend Rashid is exhibiting at World Art Dubai for the sixth time bringing her new 'power of the woman' collection which focuses on female strengths and responsibilities across different ages. Having began her journey as an artist from the age of five, Hend depicts daily life situations throughout her work.
Alexandra Williams
Dubai based abstract artist Alexandra Williams aims to capture the unique energy and emotions of experiences from the past, present and perceived future, through pattern and colour. Her paintings transport viewers, giving them a distinct sense of the emotional experience depicted in the artwork through the eyes of the artist. Each of her paintings have a hidden story within the title which opens viewers up to achieving personal responses. Her collection 'joyous' is inspired by the pandemic and the resilience of humanity.
Monali Pawaskar
Hailing from India, Monali is bringing his nature inspired artworks that look to draw attention to small details that the human eye often misses. Mesmerised by the forms and textures that nature provides, the development of his signature technique 'crater formation with acrylic and oil' can be enjoyed through his 'blooming' painting that is inspired by the beach.
Dasha Lapushka
Belarus based Dasha combines her two great passions, art and fashion in her artwork, particularly heeled shoes. Both realistic and abstract paintings can be appreciated as well a pandemic inspired piece which will be her only canvas not involving shoes.
Zoya Taher
Dubai based Palestinian Zoya's work combines charcoal and sanguine on black and white Canson paper. Her hero piece 'duality' depicts a quiet girl and a wild goat, complementing each other by inviting the viewer to search for a link between the two scenes, with her work developing to convey more feeling throughout the past year.
Mireille Salti
Lebanese Mireille will be displaying her series of paintings that features her hybrid pouring technique as well as a textured technique. She will debut her new collection inspired by the pandemic, 'grounded' which was created as a coping mechanism during her time alone and demonstrate serenity and the human figure's strengths and differences.
Check out our highlighted artists and many more at World Art Dubai which will be held at Dubai World Trade Centre, halls 1 and 2 from 7-10 April 2021 between 1-9pm each day, except Saturday which runs until 8pm. Tickets cost AED 20 for adults, AED 10 for children, with family packages available. Don't miss out on the creative journey! Get tickets online through www.worldartdubai.com. Free parking is available for all visitors to World Art Dubai at Trade Centre Multi-Story Car Park.