18 Mar 2019
Manzil & Repton School Dubai Collaborate On Sustainable Art Project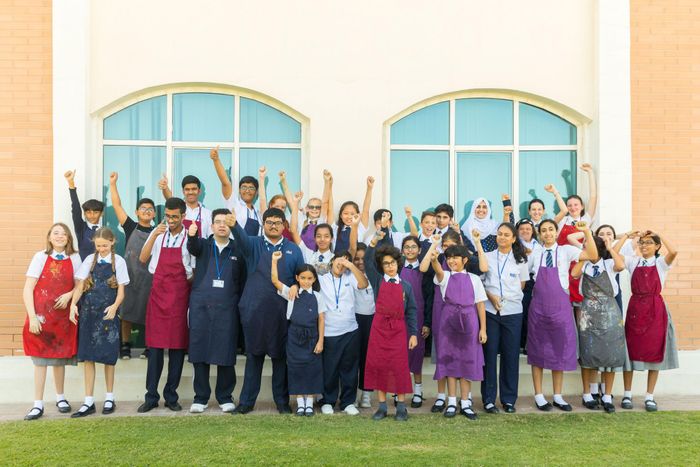 Pupils from Repton School Dubai and Manzil, one of the renowned non-profit centers focusing on social inclusion of people of determination, joined hands to create an art project on the theme of sustainability. The resulting collaborative pieces will be displayed at two high profile art showcases - DIFC Art Nights on March 18th and World Art Dubai from April 3rd to 6th.
Children were encouraged to utilize different forms of media and arts, including photography, acrylic paint and other mixed materials to produce a series of art works – a total of 12 canvases and 12 print works. The creative opportunity provided an exciting experience for the children to work together on ideas based on their experience and unique perspective, which also promoted teamwork, goal accomplishment within timelines, persistence and self-confidence.
Kay Bathke, Head of Creative Arts, Junior School, Repton School commented: "Our pupils had a fantastic experience working closely with the very gifted children at Manzil; the results of our project have been nothing short of astounding. The collaboration structured their thinking, where children were able to brainstorm as a team and visualize each other's ideas. It also served as an instrument of communication to stimulate awareness on sustainability, a topic which is continually relevant to the world in which we live. The idea was to promote mutual understanding, cooperation and teamwork while encouraging these young artists to demonstrate their creative expression. The resulting masterpiece is something in which all of the children can take enormous pride, and we are looking forward to the response from the general public when we exhibit it at DIFC Art Nights and at World Art Dubai."
Dr. Ayesha Saeed Husaini, Director at Manzil commented: "The workshop was a great opportunity for our pupils to experience learning in a different environment. Creative expression is a key element of personal development and it proved a very positive experience for our pupils to be working with other children, communicating their opinions sharing ideas and showing off their skills, while at the same time learning about the importance of a sustainable world. Together, they have produced an outstanding visual spectacle, and seeing it displayed at two key events over the coming weeks will be very encouraging for the pupils, parents and staff of both schools."
Presenting a unique fusion of art, education and entertainment, World Art Dubai set to take place in Dubai World Trade Centre, is an accessible art fair designed to unite global artists with Dubai's international community. This is the fifth time that Repton school have showcased their skills and the first time that it has joined forces with another school to produce artwork at the affordable art fair.