13 Jan 2019
Selling Your Art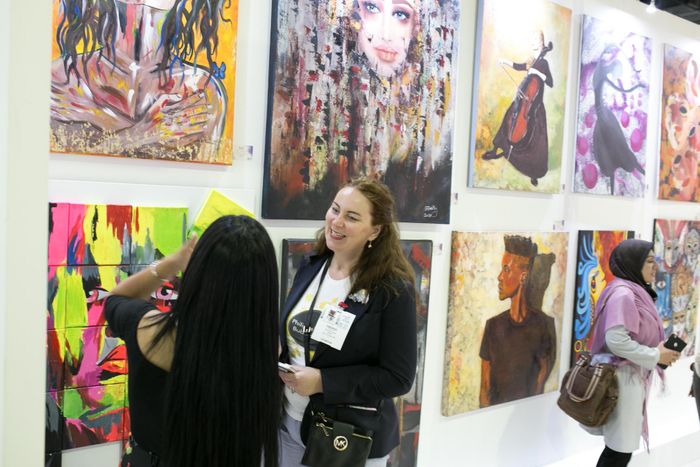 Your artwork is complete and you are ready to exhibit at the region's largest affordable retail art fair – World Art Dubai. The next step to your journey is to make sure you can do everything possible to sell your art.
World Art Dubai brings you a few tips and tricks to ensure that you are on the right path to selling your art:
Remember, it is also important to gain attention from visitors and leave a lasting impression for future sales. If you have not already, have a look at our tips on presenting yourself at an art exhibition.
Introduce yourself to an art gallery
Fairs can be hives for social connections and networking, so it is an opportunity that should not be missed by an artist. Keep your portfolio ready, take full advantage of your time at the fair to network, and build some contacts for future shows.
Attend art exhibitions around you
By doing so you will be able to join an art community, build a relationship with galleries and associate yourself with organizations that share the same style/values as you. Navigate all art networks in your area, attend talks and workshops, which will enhance your art expertise and enrich the way you interpret art.
Studying the best way to show your artwork is as essential as painting an artwork. Before the show, it is advised for artists to have a layout of their wall, which will make it easy to plan sizes of their artworks and give them an idea about display.
Build a relationship with your visitor/buyer
Have a conversation with your visitors and potential buyers to understand what their needs are. Many visitors are first-time buyers that are not too sure about their decisions. Use this as a perfect opportunity to introduce yourself and your art. Exchange information so you can reach out to them with future pieces of art that would suit their taste.
Taking advantage of WADs marketing
World Art Dubai's marketing team is ever ready and waiting to promote you and your work. We have created so many opportunities for our participating artists to connect with the thousands of followers on all our social media sites. The more an artist talks about their work and explains what inspires them, the more attractive it is to the audience. People are always interested to know what goes on behind the walls of an artist's studio and giving that insight through our marketing channels is the best way forward. Be sure to share your latest projects, images and news with the team and benefit from complimentary promotion across all digital channels.
Selling your art is never about a one-off deal. You are looking to develop a long lasting relationship with your clients. Good luck and happy selling!