The Importance of Supporting Emerging Artists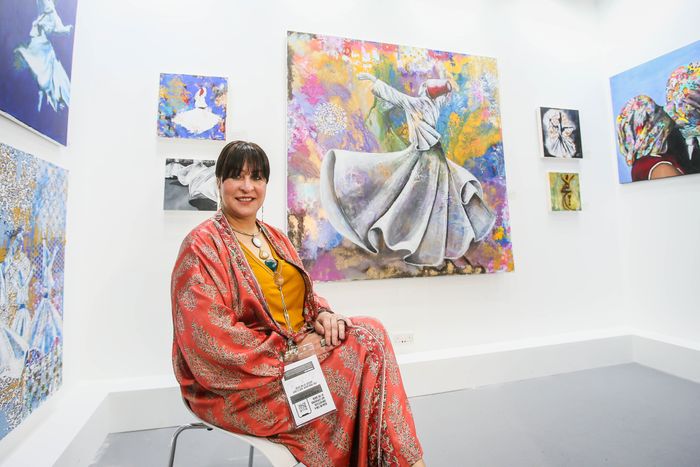 Emerging artists have had the spotlight on them at World Art Dubai since its inception.
Dubai is an incredible place for artists of all disciplines to find inspiration and diversity within its cosmopolitan city and multicultural environment. There is appetite for an array of art, across both classic and futuristic styles, with a steady stream of new artists stepping up to the easel.
Ensuring these new, emerging artists are provided with a stage to build their work and audience is fundamental to the wider art eco-system and imperative to foster innovation and cultivate originality in Dubai's art scene.
Many emerging artists have taken a leap of faith in their life, whether they are fresh out of college or have given up a career in another field to follow their passion in art and share their creative musings with the world.
Emerging artists have had the spotlight on them at World Art Dubai since its inception, serving as a platform for the next generation of artists to develop their skills, enhance their experience and introduce their work to a variety of visitors.
As the region's most accessible and affordable retail art fair, it's only natural for the show to support those just getting started with their art careers and something we believe all art fairs across the globe should be prioritising. Without the backing and encouragement from established events and other professional artists, we run the risk of losing the development of creativity and discovery of new and unique styles of art.
Partnerships with Rove Hotels and Nikon see the show award both emerging artists and photographers who enter their corresponding category. The show curators, Batool Jafri, Petra Kaltenbach and I join forces with the respective partners to award winners based on the finished artworks, as well as considering individual stories and journeys.
Having served as a curator at the show for the past 4 years, it has been an honour to be part of the support provided to emerging artists by keeping my ear to the ground and bringing in talents like sand artist Nathaniel Alapide who wowed visitors in the 2020 edition with his work made purely of sand.
I remember fondly when I first started out my career, and the support offered to me by the Museum of Migration History in Bursa by carrying one of my paintings – the feeling was electric, a true sense of pride and joy, and I certainly to some extent attribute that to my ongoing success as an artist.
I urge all visitors to get behind the emerging artists and they will find an amazing array of artists across all styles, many of them for affordable prices – perfect for those who are just starting out or for seasoned collectors looking to find that final missing piece.