The rise of Street Art in Dubai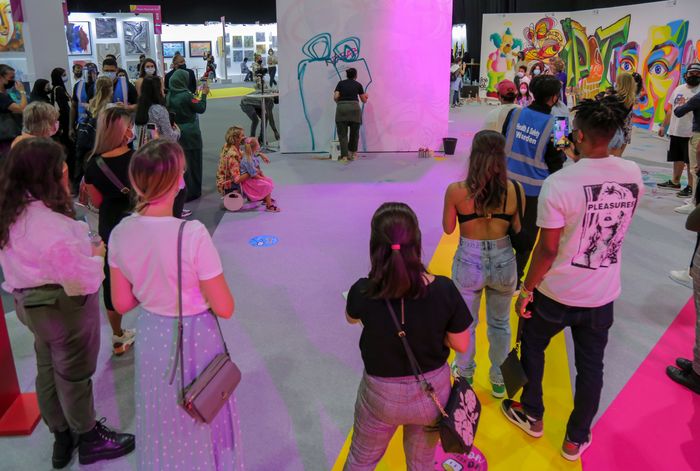 It has been amazing to see how Dubai has taken steps to embrace street art!
The appetite for street art in Dubai is evident with incredible murals taking over the city in destinations like The Walk at JBR, La Mer and Karama. The movement has been developing for years and saw a more mainstream boom globally during the lockdown with people searching for street art while many traditional galleries were closed, and art enthusiasts searched for outdoor activities.
It has been amazing to see how Dubai has taken steps to embrace street art, given local street crews a platform to promote their work and incorporated the art style into a number of mainstream projects and developments across the city.
To support this uprising, World Art Dubai has developed a space where creativity can be cultivated, as well as provide a platform for both local and international street artists in Dubai. The show has a long history of partnering with the street art scene, having first hosted UK gallery, Vandalist Art in 2018, before gallery owner, Louis Wright led curation of the dedicated zone at the show, Urban Art DXB.
When admiring independent outdoor art, you're rarely able to discover the person behind the work, yet during Urban Art DXB visitors are offered the opportunity to interact with street artists while they paint live and hear their inspirations while they work.
By further expanding the Urban Art DXB zone we are looking to give the incredible creative minds behind this type of work a platform to both sell and engage with audiences in person.
With an aim to support emerging artists throughout all show elements, World Art Dubai is, for the first time, hosting a Jam battle where artists are battling against each other creating murals that they hope will secure the spot.
In addition to the incredible artists showcasing their work, visitors had the chance to arrange custom canvasses by established street artists, explore the Giclee Galleria with the popular printing technique that produces high-quality finished prints, easily and affordably, Open Art which sees master artists working on a transparent canvas which will only be revealed once the masterpiece is complete.
World Art Dubai 2021 will be held under stringent safety and hygiene protocols. DWTC has proven its capability to curate the safest face-to-face environment and deliver world-class events with the highest safety protocols, as evidenced by the recent edition of Gulfood, which welcomed tens of thousands of visitors with 98% of local and international attendees recording a 'safe' or 'very safe' experience.
To ensure safety of visitors, and in line with all government guidelines, a range of measures will be implemented, including social distancing, mandatory mask wearing, regular disinfection and clearly marked and defined entry and exit areas. World Art Dubai has partnered with www.fynd.art to provide visitors with a contactless experience. By scanning an art piece with their smartphone, visitors can explore information about artwork exhibited, artists and galleries.