17 May 2019
World Art Dubai Feeds UAE's Appetite for Affordable Art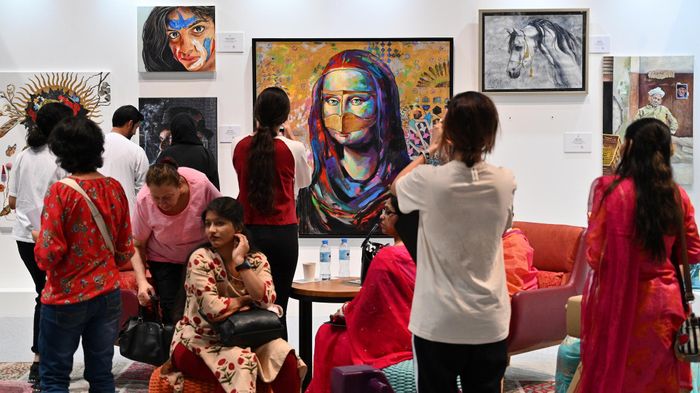 More than AED 1.7 million worth of artworks fly off artist and gallery walls at region's largest accessible and affordable art retail fair - World Art Dubai.
World Art Dubai - the region's largest accessible and affordable retail art fair and a core fixture of Dubai Art Season - closed with an impressive return of more than AED 1.7 million in sold artworks, underlining the event's importance in linking emerging local, regional and international artists with eager art buyers in the UAE and beyond.
The four-day art and lifestyle fair welcomed more than 10,000 visitors who snapped up 400-plus pieces. The strong footfall delivered the five-year-old fair's most impressive sales return to date, while a non-stop schedule of live art performances, workshops, talks and curated tours of the fair helped entertain and close industry knowledge gaps among art enthusiasts of all ages.
A global affair
The continuous stream of art lovers, gallery owners, private collectors and corporate art buyers viewed a collection boasting more than 3,000 artworks from 150-plus international and regional artists and galleries.
World Art Dubai 2019 also featured a significant number of artists and galleries making UAE debuts, including art industry talent from Chile, Myanmar, Argentina, Italy, Taiwan, Turkmenistan, Mexico, Belarus and Gabon.
Exhibitors rejoice with success
With sales rife across the fair floor, a number of artists and galleries also reported strong potential for major post-show commissions, highlighting a growing attitude for World Art Dubai serving a conduit for custom requests to artists eager to expand their portfolios.
Solo artist Kristel Bechara, back at World Art Dubai for a second consecutive year, said the fair continues to provide a tailored platform to interact directly with buyers: "It's very important to me to participate in World Art Dubai because I get to meet a lot of diverse artists and different international as well as local galleries. This year I sold 17 paintings and received four back orders which pleasantly exceeded my expectation. It has been lovely and extremely well planned, I will definitely be back next year."
The popularity of Russian artist Julia Smolenkova's work meant that she had to create additional pieces for the final day: "I sold eight paintings and actually painted two new pieces on Friday evening which I sold on Saturday. I had to create new work because my stand was empty. World Art Dubai is a place where artists, art lovers and collectors can meet each other – it's a wonderful experience for an emerging artist."
Returning gallery Art Yard noted that the show continues to be a success for them and their partners. Artist and Director, Laila Mohammed noted: "It's a great opportunity for networking, meeting other artists and international exhibitors and professional people. There is a wide variety of people attending World Art Dubai. One of the best features is the location, it's very appealing because of that and the second is the audience's diversity, it's very multicultural which enriches our experience. It's been very good for us at World Art Dubai, we have sold 15 out of 30 pieces of art, 50 per cent of what we brought!"
Visitors delighted with diversity
With art of all forms passing through the fair's sales counters, buyers expressed their delight at the show's wide variety of works.
Elena Yiasemides, who has visited World Art Dubai numerous times in the past, was particularly pleased with the breadth of exhibitors: "I've bought three pieces. This year's fair had a very nice section of Asian-inspired art. I bought pieces by two Japanese artists and a third by a Filipino-French artist."
First time visitor Andrew Tapper, from New Zealand, also enjoyed the diversity of works: "The range of art, techniques and genres was impressive, there were artists and galleries from all over the world."
Returning visitor Elissa Chua, who was encouraged from her experience last year and is impressed with the selection of artwork and variety of artists exhibiting at the show: "I bought one piece of an evil eye. I really like hyperrealism art, I was particularly impressed by the wildlife paintings of a tiger and lion - they looked so realistic I thought they were photographs. I would give World Art Dubai a perfect 10 out of 10."
The kids shine bright
The Plaza, an outdoor exhibition space at World Art Dubai, hosted the artworks from finalists and runners up of the Sustainable Art School Competition which encouraged students to express their artistic flair under the theme of sustainability. The Plaza also hosted a collaboration between Repton School Dubai and Manzil, the non-profit support group that focuses on social inclusion of people with determination. Both initiatives saw work created by UAE students displayed throughout World Art Dubai.
"Our collaboration with Manzil was very fruitful and it was wonderful to see the students' work exhibited in such a high-profile environment. We received great feedback from visitors and that's very encouraging for children and teachers," said Kay Bathke, Head of Creative Arts - Junior School, Repton Dubai School.
Alongside the curated artwork and interactive features this year, World Art Dubai featured a key exhibition commissioned by Standard Chartered Bank to raise awareness of gender pay parity throughout the art world. The Art Gap Exhibition showcased 19 UAE-based female artists' work that was only 47.6 per cent complete and was a popular feature for visitors.
"World Art Dubai was the perfect platform for such a launch as it allowed the message to reach the maximum number of people. The art fair is known for its diverse clientele, whether local or international," Batool Jafri, Art Gap and World Art Dubai curator, said.
"Many people stopped by and asked about the collective. We have had a lot of galleries and museums show interest in taking the cause to their spaces. Some pieces from the collective have even found new homes."