21 Feb 2019
Calligraffiti Workshop with Diaa Allam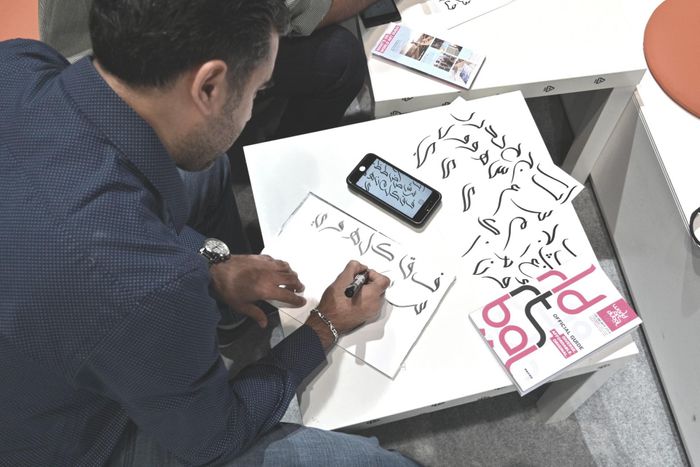 Known for putting his own modern spin on an art form long recognised for its traditions, Diaa Allam will be hosting a live workshop for a limited audience at World Art Dubai. Diaa is a muralist, live art performer, urban planner, landscape architect and founder of Naht Designs. He is well known for his participation in the Dubai Guinness Record Graffiti Scroll and his latest work "Tolerance is the Heart of Wisdom" specially made for the launch of the new identity of Dubai Airport.
Diaa has always has a passion about the art of Arabic calligraphy and architecture. While Diaa kept his two interests throughout the years, the natural academic and professional path was urban planning. It wasn't until 2011 that calligraphy started to spark a larger interest and Diaa started self-teaching and practicing. Calligraphy helped Diaa feel more connected to his Arabic culture and identity. It wasn't too long until he decided that he wanted everyone else to see the beauty of it too by adding his own personal touch and resonating with people from all around the world.
What are your thoughts on the artistic scene of the U.A.E at the moment?
I think it's growing really fast, especially with the great attention our leaders are giving to this field and people who contribute to it. Now we have many spaces dedicated to art and artists in many emirates, and you can also see graffiti of all kinds on buildings almost everywhere you look, a lot of which are in Arabic calligraphy which makes me proud to be a part of this involvement.
How has the artistic journey in the U.A.E been for you?
The journey is always pleasant to me, not easy, but pleasant. Especially now looking back at myself a few years ago and seeing the how far I've come with my skills and vision from when I started. The journey is still going on and the scale is getting higher which makes the responsibility bigger to deliver consistent works, but I'm always up for challenges, and as long as you're working hard on yourself, your next steps will be wise and steady.
Which is your one piece of work that has been the closest to you and why?
I love every piece and each one of them is close to me, but maybe my artwork of Sheikh Zayed has a special place in my heart being a tribute to not just any person, but a leader and a role model I grew up looking up to. It means something to me.
What made you want to participate at World Art Dubai?
World Art Dubai is one of the biggest art exhibitions that gathers an enormous number of artists under one roof, which makes it a great opportunity for artists to network, introduce themselves to different styles and find inspiration, and of course, it's the best place for art lovers as there is something that matches the taste of everyone.