Color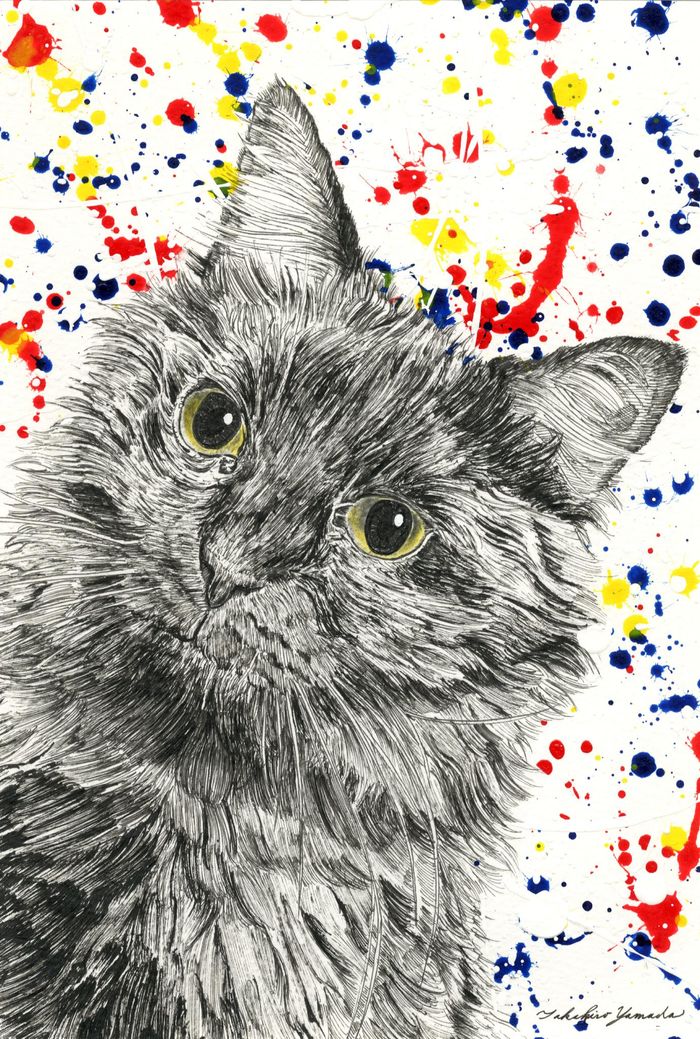 This work was created from the idea that black cats drawn by a black-and-white artist could have color. The black cat is believed to have lived a vivid life of vivid colors so due to that thought, the three primary colors, red, blue and yellow, and white, were applied to the background. Among Yamada's works, this is a rare work in primary colors.
---
Takahiro Yamada
Takahiro creates works using a monochrome pen with the theme of cats. He also likes to draw dogs, owls, and even stuffed animals, he tends to draw something with fur. Although his works are quite simple, he aims to make the warmth and liveliness of animals on paper. Working as an artist, he is also a translator at a trading company.
He has been doing solo exhibitions in Japan such as in Osaka, Kobe, Akashi, Himeji, Tokyo, etc. He has been actively participating in exhibitions and art fairs as well. He hopes many people can see the distinctive eyesight and fluffiness of his cats.
[Selected Solo Exhibitions]
2019 "The Cats", World Times, Shukugawa, Japan
2018 "The World of Ink on Paper", Sanyo Department Store, Himeji, Japan
2015 "Ink on Paper", Okanoyama Museum of Art Nishiwaki, Nishiwaki, Japan
2013 "Cats x NY", Gallery Modern, Kobe, Japan
[Art Fairs]
2019 Art Shopping, Le Carrousel du Louvre, Paris, France 16-18'
2019 Daegu Art Fair, EXCO, Daegu, Korea
2019 Art Busan, BEXCO, Busan, Korea
2019 World Art Dubai, Dubai World Trade Center, (Dubai, UAE)
2018 Kobe Art Marche, Meriken Park Oriental Hotel, Kobe, Japan 17'
[Selected Awards]
2019 The 78th Japan Watercolor Federation Exhibition, Muse Award
2016 The 35th "NICHIGENTEN" Nippon Modern Fine Arts Association, Osaka Gazai Award
2016 The 17th Art Actuel France and Japan, Salon d'Automne Award
[Website]
https://takasan.jimdofree.com/
Art Style:
Figurative

Contemporary

Sketches

Acrylic painting

Mixed media

Portraits
Dimensions: 15.8x22.7cm
Colour:
Black

Blue

Grey

Red

White

Yellow
Price: AED1,337 (USD364)