Connected world – the world is all connected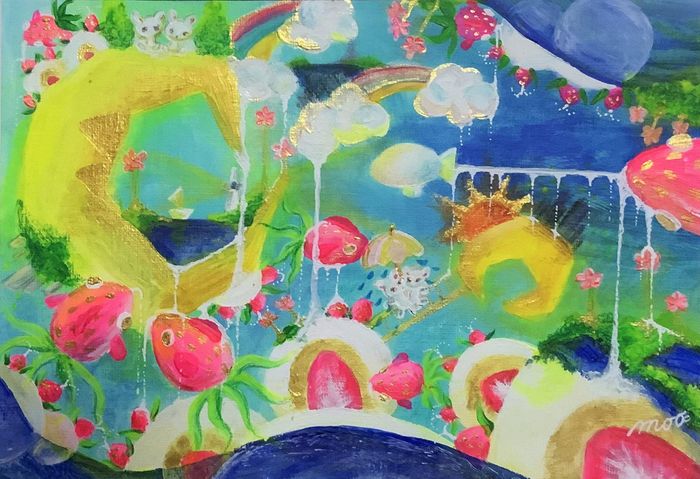 The past, present and future, existing world and time – they all differ according to personal value or seed of life. Happiness, hatred, what is in front of your eyes, what is in space, they may be all different. What one thought to be the sea turns
out to be the sky. The Moon was not the only one but one of many. There is no such thing as the right answer in this world. "Strawberry Goldfish", "the Moon" and "Milk" represent the
existence of life in space. Hatred creates "Strawberry Daifuku", and "Strawberry Goldfish" born from it, with "Milk", puri-fies it, connecting to life. The smallest work by Muu Nanahoshi painting rainbows and clouds.
---
Moo Nanahoshi
Based in Tokyo, Japan
Muu Nanahoshi has exhibited at art museums and galleries inside and outside Japan, winning vari-ous awards.
Her 2D and 3D works come from her unique worldview.
The world is connected — to communicate this message, she paints all large works connectable when aligned.
In childhood, taking her house, wood, stones and the street as canvas, Muu absorbed herself in painting with pen, stones and wood chips. Every day, she had dreams as magnificent as movies in which characters and worlds emerged out of her unconscious where there was no boundary between reality and dreams.
Muu uses her world of dream and reality in her unconscious and daily feelings as core, contemplates upon dream, ideal and reality and the past, present and future with her original view, mingles with her inner hardships, joy and sorrow, painting the world, letting it generate through her original filter.
At present, Muu expresses life and the Earth and the human world, painting milk, sea, sky, stars and the moon. "Strawberry Goldfish," "Strawberry Daifuku," and "Flowers" are her main icons, painting people she has met and daily feelings of the ordinary and extraordinary.
With her unique worldview, she paints reincarnation and parallel worlds as she desires.
Some lives look like the sea and others the sky.
Death of lives, hatred and various emotions give birth to "Flowers". From "Flowers," "Milk" is born. "Milk" gives birth to "Strawberry Daifuku" from which "Strawberry Goldfish" is naturally born to purify suffering and hatred.
"Strawberry Daifuku" shrinks and disappears after purification is complete. The sorrow becomes the tear of milk, which also purifies the world.
The rabbits, chihuahuas and cats born from "Milk" and "Strawberry Daifuku" living there are depicted as the sole creatures that can take an objective view on the world.
Muu also creates 3D and soft vinyl figures of these chihuahuas and cats.
Original handmade goods such as teddy bears and pouches can be found at shops and events in Japan.
For details:
https://www.instagram.com/nanahoshimuu/
https://www.facebook.com/nanahoshimuu
Awards
2017 Heart Art in TOKYO 2017 Selected Artists Exhibition, Jury Special Prize
2016 Heart Art in LISBON 2016, Gold Prize
2016 Heart Art in TOKYO Selected Artists Exhibition, Director Award
2015 In Memory of Manyo Mahoroba Exhibition, Honorary Director Award
2015 Heart Art in TOKYO 2015 Selected Artists Exhibition, Bronze Award / Orange Ribbon Honorary Mention
2014 Heart Art in KANAZAWA 2014 -Leap-, Selected Special Exhibition, Special Award
2014 Nihon no Ehon, Bronze Award
Exhibitions
2019 GIFTSHOW Autumn 2019, Tokyo Big Sight, Japan
2019 COMICCON SEOUL, COEX, Korea
2019 CREATIVE EXPO TAIWAN, Yuanshan Zhengyan Pavilion, Taiwan
2018 COMICCON SEOUL, COEX, Korea
2018 ART TOY CULTURE 2018, COEX, Korea
2018 creatorEXPO, Tokyo Big Sight, Tokyo, Japan 13-17'
2017 ART TOY CULTURE 2017, COEX, Korea
2017 New Year's Day at Imperial Hotel, Imperial Hotel, Tokyo, Japan
2016 13-Year Anniversary Exhibition TATSUYA ART COMPETITION 2016. Gallery Tatsuya, Nagoya, Japan
2016 GIFTSHOW Autumn 2016, Tokyo Big Sight, Tokyo, Japan
2016 The 2nd Oedo Kioicho Matsuri, Hotel New Otani, Tokyo, Japan
2016 Abi Sun Art Gallery Event, Abi Sun Art Gallery, Chiba, Japan
2016 Heart Art in FUKUOKA The 2nd The Day Art Gathers in Fukuoka Exhibition, Fukuoka Art Asian Art Museum, Japan
2016 Oedo Kioicho Sakura Matsuri, Hotel New Otani, Tokyo, Japan
2016 Sticker & Button Badge Exhibition, Atelier COMET, Tokyo, Japan
2016 GIFTSHOW Spring 2016, Tokyo Big Sight, Tokyo, Japan
2016 Mononoke Lottery Exhibition, Atelier COMET, Tokyo, Japan
2015 Christmas Tree & Box Lottery, Atelier COMET, Tokyo, Japan
2015 Spin Exhibition, ATOMLIVINTECH CO.,LTD, Tokyo, Japan
2015 JAPAN ART&CRAFTS in PRAGUE, The Manes Exhibition Hall, Prague, Czechoslovakia
2015 Japan Expo, Parc des Expositions de Villepinte, Paris, France
2015 White Cat Shop, Atelier COMET, Tokyo, Japan
2015 Illustration Exhibition 2015 The Girls' Kaleidoscope, RECTO VERSO GALLERY, Tokyo, Japan
2015 Mint mint mint!, KoenjiGrain, Tokyo, Japan
2015 The 18th AIDS Charity Exhibition, The National Art Center, Tokyo, Japan
2014 GIFTSHOW Autumn 2014, Tokyo Big Sight, Tokyo, Japan
2014 Gallery Opening Exhibition, CLOVERplus, Kawagoe, Japan
2014 POSTCARD LABORATORY, Shibuya Hikarie, Tokyo, Japan
2014 Itten (one piece), Namba LOFT, Tokyo, Japan
2014 Itten (one piece), Shibuya LOFT, Tokyo, Japan
2014 SQUARE Exhibition, SPACE WOMb Gallery, New York, US
2013 Stamp Exhibition, Tokyo Midtown Design Hub, Tokyo, Japan
2012 Ribbon Exhibition, Tokyo Midtown Design Hub, Tokyo, Japan
2011 T-Shirt Exhibition, limArt, Tokyo, Japan
2011 T-Shirt Exhibition, Omotesando Hills, Tokyo, Japan
and many more
Art Style:
Street Art

Modernism

Abstract

Acrylic painting
Dimensions: 35x29cm
Colour:
Blue

Green

Pink

Purple

Red

White

Yellow
Price: AED25,800 (USD7,025)