"Life"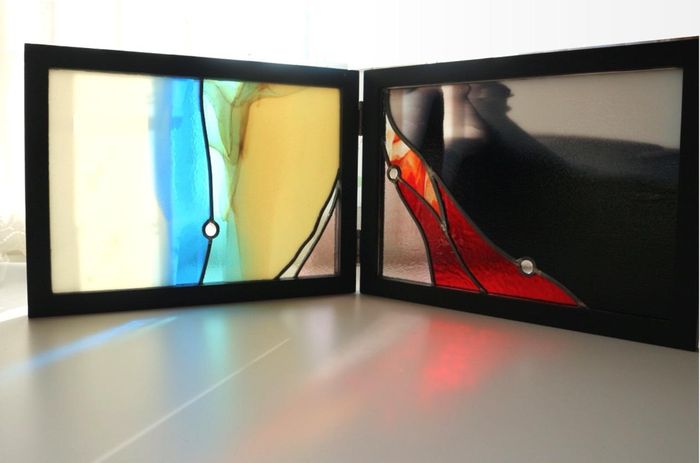 The theme of this work is "Life of Flowers or People". Life is born in this world, grows, matures and eventually runs out. Akemi Kitayama uses light, shadow and color to express each process in an impressive way.
---
Akemi Kitayama
Glass Artist / Interior Designer / Teacher
Akemi Kitayama'sglass work incorporates Japanese beauty with the motif of People, Nature and Crafts. She aims to express the Light, Shadow and Colors effectively.
Selected Solo Exhibitions
2019 "The Japanese beauty series" vol.1 "In Search of Japanese Beauty", Kintetsu Department Store, Uehonmachi, Japan, vol.2 "Connecting History and the Future of Stained glass space", GarellyYukikyu, Kitahama, Japan, and vol.3 "The Japanese beauty forever", Garellya&w, Kyomachibori, Japan
2017 "All living things", GarellyDella Pace, Motomachi, Japan
2016 "Vita", GarellyYukikyu, Kitahama, Japan
2014 "Parlotte", GarellyDella pace, Motomachi, Japan
2013"Fusion de la lumière et de parfum, Garelly Yukikyu, Kitahama, Japan
2011 "LightandShadow of Stained glass "Con esperanza", Gallery Rhine
House, Kobe, Japan
2007 "El Cielo Sereno", Garellycafé del Code, Aguascalientes, Mexico
2004 "FelicesFlores", Daimaru Department Store, Shinsaibashi, Japan
Art Fairs
2017 "Christmas Treasure Exhibition", Garellya&w, Kyomachibori, Japan
2013 "AshiyaArt Bazaar", AshiyaCity Museum of Art, Ashiya, Japan
2013 "RainibowExhibition", GarellyYukikyu, Kitahama, Japan
2005 & 2006 "Centro de Artes y Oficiosde Aguascalientes exhibition", Mexico
Selected Awards
2019 Nishinomiya City Exhibition, Winning, Nishinomiya, Japan
2011 An exhibition scholarship from Kyoto University of Art and Design, Japan
Website
Akemi Kitayama Website : www.kita-a.com
Dimensions: W45xH33xD5cm
Colour:
Beige

Black

Blue

Green

Pink

Red

White
Price: AED19,200 (USD5,200)