Moon cat - I am a cat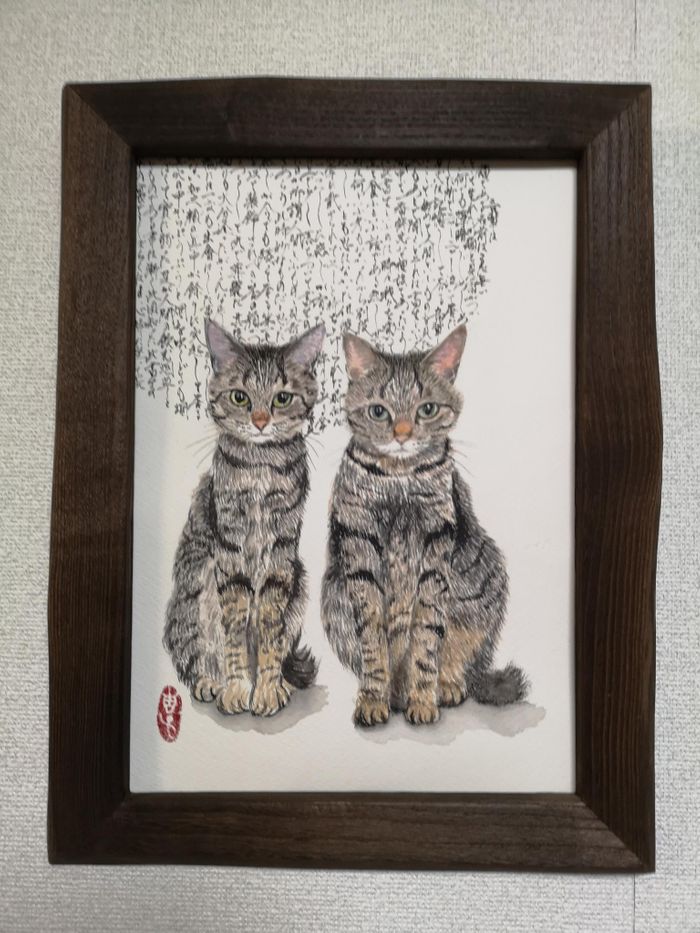 Japanese Calligrapher and Cat Painter
I would like to connect with people all over the world who love cats.
When I was a child, I had a dream to become a painter. My long-cherished dream has almost come true. Now I have been living a pleasant daily life as an artist.
In my childhood, every day I used to spend alone during the day, painting pictures and making handicrafts, and I always was with a cat.
I have been continuing to practice Japanese calligraphy since I was nine years old. One day an idea occurred to me that I could create my original works by combining calligraphy with cat pictures as I love cats very much.
After trial and error for several years, I have completed a series of my works named "The Moon and Cat." In those works the moon is depicted with various shapes shown by calligraphy in the background of cat pictures.
I adopted passages from the books and essays written by famous Japanese writers in the materials for calligraphy.
In my other. works calligraphy is arranged in the patterns of not only the moon but also polka dots or tartan.
I would like people to notice flowing kana (Japanese system of syllabic writing), lovely cats and also the beauty of blank spaces.
I aim to create my works which will make people smile involuntarily when people see them.
Past Exhibitions
2015.8 The 16 France-Japan Multinational Contemporary Art Exhibition - Paris Salon International Awarded (The National Museum of Art)
2015.10 The Paris International Art Exhibition - selected
2016.6 France Corsica Art Shop - selected
2016.7 101 Cats Exhibition: exhibited (Ginza Akatsuki Gallery)
2016.9 Nippon Beauty Exhibition - selected (Tokyo Metropolitan Art Museum)
2016.10 Salon d' Automne: selected (Paris Champs—Elysees)
2017.1 Neko Hajime Exhibition - Exhibited (Kisya Gallery)
2017.1 Everyone cat Exhibition - exhibited (Hakata 410 Gallery)
2017.2 Exhibition of a small amount:collector awarded-popular vote #2 (Dorado Gallery)
2017.3 Contemporary artists exhibition to be dynamic: Excellence
2017.4 SALON BLANC International Exhibition Of Contemporary Art > selected
2017.4 Palm-Sized Art Exhibition. > exhibited ( Dorado Gallery)
2017.5 Satsuki Association + exhibited (Ginza moonlight Zhuang)
2017.7 Nekoneko Exhibition:exhibited sold out(Chiba Matsuyama Garden Museum)
2017.8 Italy Sicily Art Award Exhibition - Excellence Award
2017.8 Paris cat-ism:July Prize and Semimaru Award
2018.3 Paris cat collection - exhibited (Paris)
2018.4 Paris cat collection + exhibited (Shibuya Culture Village)
2018.7 Paris Japan Expo Exhibitors - Performance calligraphy
2018.9 100 Japanese Artists:[WE] Summer Exhibition 2018 by JCAT (Japanese Contemporary Artist Team in New York) ,selected (Pleiades gallery, New York)
2018.9 Japanism 2 Exhibition 2018 by JCAT >: Exhibition — scheduled (Pleiades gallery, New York)
2018.10 Paris Carousel Art Shopping: Exhibition scheduled
2019.2 Paris Salon International Exhibition, Mini-exhibition department - Exhibition scheduled