10 Feb 2020
Tapping Into Art Trends For 2020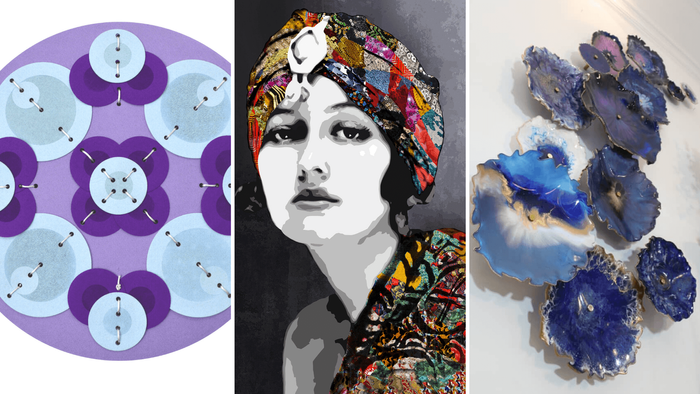 World Art Dubai 2020 artists Kristel Bechara, Aditi Patwari and Mahnaz Karimi discuss how this year's fair will reflect wider trends in the global art scene.
As Dubai readies to welcome World Art Dubai 2020, a trio of artists participating at the sixth edition of the region's largest affordable retail art fair believe this year's event will tap into a series of global art scene trends, including the ongoing transition of graffiti to a globally respected urban art form and the relentless march of mixed media art in the digital age.
Having displayed work at shows in France, Belgium, Japan and Italy, artist Kristel Bechara, who is exhibiting at World Art Dubai for the third consecutive year, is encouraged by changing perceptions of pop art inspired graffiti that is now beautifying cities across the world, including Dubai.
"These artistic creations, usually conveying strong social and cultural messages, have been elevated from vandalism to street art. They are now universally accepted as a major art form and are selling at leading auction houses, with artists also hosting their own successful exhibitions," says Kristel.
Meanwhile, first-time exhibitors Aditi Patwari and Mahnaz Karimi believe new and innovative art mediums will gain further momentum as artists continue to experiment with mixed media: "Classic styles such as painting and sketching will always remain important, but as we see evolution and experimentation in other parts of life, the artwork in our spaces must reflect this transformation and be reimagined as well," says Aditi.
Mahnaz adds: "The methods of creating art are not as orthodox as they were before, and artists feel free to combine colours, patterns and techniques. Creativity and innovation will reach their peak in new artworks."
With a rising number of art events and initiatives across the Emirates, the UAE's creative scene is blooming. Aditi believes the country's cultural diversity plays a major role in the successful art sector, as influences from all around the world leave their mark on the multinational country.
Creative initiatives such as World Art Dubai mark the importance of the UAE's art scene for both regional and international artists, argues Mahnaz: "The country is developing into a major centre of the international art world and World Art Dubai has become more popular each year – it is clearly filling a gap in the market. The exhibition also provides a platform for international artists to show their newest works to an interested and engaged public. World Art Dubai can serve as a springboard into a successful career."
With some World Art Dubai visitors looking to invest in their first art piece, Kristel believes the fair is an extra avenue to get up-close to emerging talent: "One of the most interesting aspects of collecting affordable art is being able to meet with the artists. How cool is it to have a picture with the artist as part of an artwork's provenance when it becomes invaluable," says Kristel.