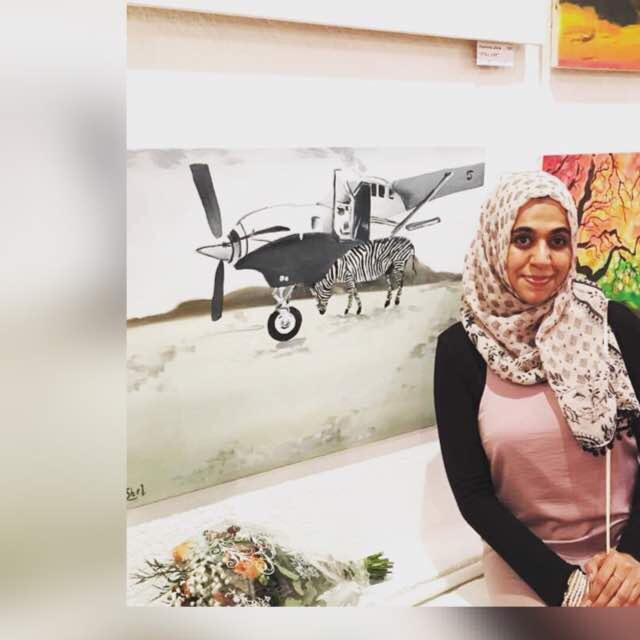 Shelina Khimji is an award winning Tanzanian born artist and a qualified accountant, a self taught artist drawn to art since her childhood.
Over a decade long career, her lockdown artwork was featured on CNN Style, (https://edition.cnn.com/style/article/dubai-lockdown-art-spc-intl/index.html) she has also been a two time finalist in the New York and Los Angeles Coffee Art Project, a winner and a runner up at the KSIJ local community art competitions, a participant in the sketchbook project where her sketchbook toured USA and Canada, as well as a regular participant in the EA Art Biennale to name a few. She has sold her paintings to Ahlulbait TV, an Islamic channel in UK for auctioning, Flightlink, a local airline Company in Tanzania and to a cafeteria in Australia.
Colour is her powerful symbolism as it reflects her happy persona and her ideal world imagery. She believes art has allowed her to dip her brush into her soul and paint away her fantasies. The imaginary places and dreams that she expresses on the canvas permit her to lose herself and fulfil her inner longings by bringing them alive in a painting. She loves to do challenging concepts that give her a sense of achievement. She also has a natural knack for drawing and her style includes sketches, abstracts, impressionism, collage, portrait, sceneries and perspective art. She uses oil and acrylics.
Some of the concepts of her artworks have been recognised internationally since she loves to depict her country Tanzania in a context that is so rich in culture, art and sceneries. Her inspiration also comes from the fact that a powerful piece of art talks to you thus she uses art to convey her strong beliefs when it comes to her country, the awareness of environment and the less privileged.